GSA X3
The GSA X3 was the most sportive model of the GSA line. It was introduced in 1979. With it's topspeed of 158 km/h it was also the fastest GSA at the time. The accelaration from 0-100km/h took this car 14.0 seconds, not very much considering todays' standards, but at the time it was still 4 seconds faster then it's predecessor, the GS X3. The reduced weight, it was 40 kilo lighter then the GS X3, was the main reason for that. The car was equiped with the same 1299cc engine, with produced 65HP at 5500 RPM.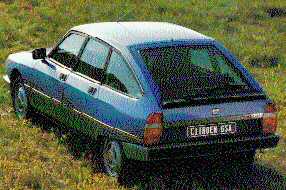 The GSA X3 was equiped with a lot of extra's. In the picture you can see the spoiler, special frontchairs, wheelcaps, foglights. But also a RPM meter, 5 speed gearbox, digital clock, jersey interiour and adjustable rearview mirrors from the inside belonged to the standard equipment. The wheelscaps you see in the picture underneath where originally from the GS X3. These where only used on the cars untill about 1981, after that the car was given light alloy wheelcaps.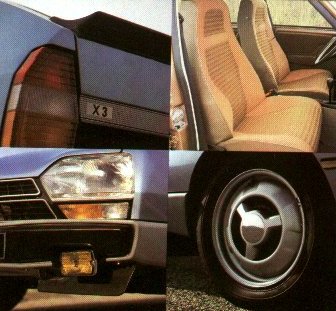 In 1985 the GSA X3 is taken out of production. Citroën have found a successor, in the BX 19 GT, to continue the line of sportive middclass Citroëns. This car is later to be replaced by the BX 19 GTI, the summum of sportive Citroëns...