, welcome and were reffered by . This site is dedicated to one of the most fantastic cars ever made, the Citroën GS and Citroën GSA. The Citroën GS types where introduced towards the end of 1970. In 1971 the GS won the European Car of the Year Award, mainly due its originality of design and technical specifications. The Citroën GS range lasted until 1981, when GSA model replaced it. The Citroën GSA was clearly inspired by the GS, and was in fact an evolution of the earlier model. The Citroën GSA remained on sale untill 1986, when production was ceased and the car was fully replaced by the Citroën BX. This site is fully dedicated to what still is a great car. Enjoy the site and don't hesitate to send my any e-mails with your questions, thoughts and contributions. Click 'Enter the site' to proceed to the 'start page'.
Mattijs Kemmink, 2000.

Enter the site
By clicking the link 'Enter the site' you are acknowledging that you are aware of the disclaimer and copyrights of this site.

Opron event near Paris, France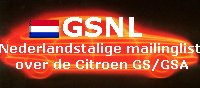 Previous | Skip It | Next 5 | Random | join | List all sites | Next